I started with welsh corgi breeding 20 years ago as Ivana Jakubcova along with Dr. Jitka Pacltova in kennel "z Neustejna". Our first bitch was Tajga (*1983). She came from kennel Moravia Mefistofeles owned by founder of welsh corgi breeding in Czech Republic PhDr. Vladimir Mojzis and his daughter Mrs. Hana Fojtíkova.
In kennel "z Neustejna" we bred 11 litters of welsh corgi pembroke (1985 - 1996), except Tajga, out of females Abigajíl, Cidara and Delight z Neustejna (pedigree). 3 corgies "z Neustejna" becames Multichampions and Interchampions; 10 corgies from this kennel became Czech champions.
In the year 1990 we imported (at that time to Czechoslovakia yet) first welsh corgi cardigan in our country, tricolor female Morgan Egger Mokronog.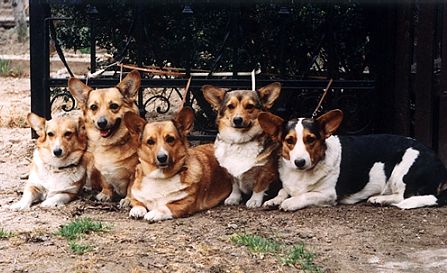 from left welsh corgi pembroke:
Cidara z Neustejna
Tajga Moravia Mefistofeles
Abigajil z Neustejna - Champion of Czechoslovakia
Delight z Neustejna - Champion of Czechoslovakia
Morgan Egger Mokronog (welsh corgi cardigan) - Champion of Czechoslovakia
In the year 1998, already together with my husband Ivan, I imported from Finland mated female welsh corgi pembroke Haywire's Goldie Slumbers and had first litter welsh corgi "ze Sibrtu". Till the end of 2007 it were 8 litters - ot them Aestonia Haywire's ze Sibrtu lives in Estonia (Champion of Estoina, Finland, Russia), Blackberry (Champion of Russia), Cyr (Champion of Russia, Moldavia, Lithuania, Belorussia) and Daily ze Sibrtu are in Russia, Cyndy ze Sibrti is in Austria.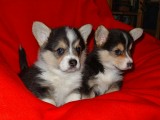 In the year 2005 we mated our female CH. Else ze Sibrtu in Italy with Multichampion Dragonheart = litter H ze Sibrtu.
Here is summary of Dragonheart's accomplishments:
European Champion 2005
European Champion 2004
European Champion 2003
Italian Champion
International Champion
Luxembourg Champion
San Marino Republic Champion
Croatian Champion
Slovenian Champion
Slovenian Club Winner '06
Monaco Champion
Top Pembroke 2001/2002/2003/2004/2005
Top Pastoral Breeds 2002
2nd Top Pastoral Breeds 2003
88x Best of Breed (BOB), 71x CACIB
31x Best of Group #1st
21x Group #2nd
11x Best in Show #1st
6x Best in Show #2nd
6x Best in Show #3rd
BEST IN SHOW #3rd - Erba International Show '06 (judge: Mr. John Walsh - IRL)
Reserve BEST DOG (Res. CC) at Cruft's Dog Show 2006 (UK) (breed specialist: Mr. R. Wood "Mysweet Kennel" - UK)
2nd Prize in open dog class at Cruft's Dog Show 2007 (UK) (breed specialist: Mrs. Sue Harrison "Haresfoot Corgis" UK)
Also this way we want to thank our italian friends Chiara Ceredi and Marcello Farnedi for warmly welcome and nice visit.


In July 2007 our "Goldie" died.
Haywire's Golden Slumbers
BOB, 2*CACIB, 3*CAC

Sire: Sannilan All My Loving
Dam: Haywire´s Adelain
Pedigree >>>